On February 18, 2016 Canadian parliament passed a motion condemning "any and all attempts by Canadian organizations, groups or individuals to promote the BDS [Boycott Divestment Sanctions against Israeli apartheid] movement, both here at home and abroad."
• What are the legal implications of this motion? Is BDS being criminalized?
• What is the political and transnational context?
• How have activists and university campuses been affected by the vilification of BDS?
• What does this mean for the BDS movement?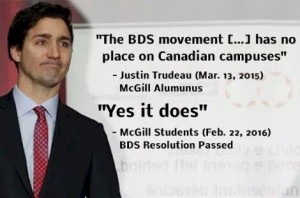 This speakers panel and discussion addresses this recent anti-BDS offensive including legal, campus-based, labour, and social movement reflections and analysis.
Organized by: Faculty for Palestine
Endorsed by: Coalition Against Israeli Apartheid (CAIA) and U of T Divest
This event is wheelchair acccessible. Admission is Free. Invite your friends on Facebook here.

Speakers:
Faisal Bhabha, Associate Pr

ofessor, Osgoode Hall Law School, and founding member of Arab Canadian Lawyers Association (ACLA)

Rajean Hoilett, Chairperson, Canadian Federation of Students Ontario

Dania Majid, Founder, Executive Member Arab Canadian Lawyers Association (ACLA)

David McNally, Professor of Political Science, York University and York University Faculty Association ( YUFA) steward

Issam Yamani, Palestinian activist
To contact Faculty for Palestine (F4P):
Email: fac4pal@gmail.com
Website: www.faculty4palestine
Facebook: www.facebook.com/FacultyForPalestine?ref=hl
Twitter: Follow us @fac4pal