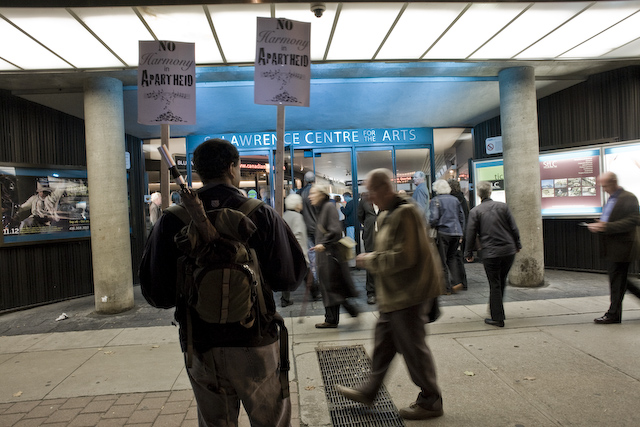 Patrons coming to see the Jerusalem String Quarter in Toronto on October13th 2011 were made to realize that any performance providing a cultural facade to the state of Israel and its oppression of the Palestinians was going to be met with opposition. On a wet and chilly evening in front of the St. Lawrence Centre for the Arts, twenty members of the Coalition Against Israeli Apartheid (CAIA) staged an information picket to demonstrate against this attempt at re-branding Israel. See the video here
The Toronto demonstration was in response to a call issued by PACBI and USACBI to picket the Jerusalem String Quartet's North American tour (http://www.pacbi.org/etemplate.php?id=1718). The Jerusalem Music Centre, the home base for the Jerusalem String Quartet, is prominently featured on the Israeli Foreign Ministry website, revealing how it is among the Israeli cultural institutions that are part of theongoing effort to "re-brand" Israel's image in the West.
The picket creatively raised awareness about the use of cultural ambassadors to whitewash Israel's human rights abuses and violations of International Law. While CAIA members handed out informational flyers to patrons and passersby, others staged a mock string duet playing cacophonic music (by design) under placards that read "No Harmony In Apartheid". In addition, CAIA members handed out brochures to theatre goers that seemed, on the outside, to provide information on the quartet, while on the inside exposing Israel's apartheid system and attempts to whitewash it through cultural re-branding.
While the picket provoked some lively responses and discussion, many people reacted with interest and cautious affirmation.
The picket was one among many that have followed the quartet during its North American tour from October 2-16.