Date: Friday, October 16, 2015
Time: 6 pm
Location: Across from the Israeli consulate,180 Bloor Street West, Toronto
Facebook event: https://www.facebook.com/events/427332634128806/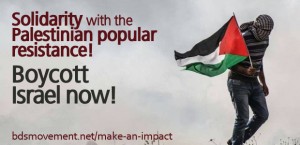 Another round of escalating Israeli attacks throughout historic Palestine is being met with intensified Palestinian popular resistance. World governments, especially in the west, are calling this a "cycle of violence" where both sides are to blame, ignoring the root cause of the colonial conflict and their own complicity in enabling Israel to violate international law with impunity. But, as long as occupation and apartheid are allowed to continue, we will see neither justice nor peace in Palestine.
We need to hold Israel to account. We need to expose and challenge corporate and governmental complicity, particularly those that enable and profit from occupation and apartheid. Israel's military machine, including its research arm, must face a comprehensive international military embargo, and all Israeli leaders, officers and soldiers who are involved in the commission of the current and past crimes must be prosecuted at the International Criminal Court as well as national courts that respect international jurisdiction.
Join Palestine House, the Coalition Against Israeli Apartheid and other social justice organizations and people of conscience across Toronto in the streets this Friday, and add your voice to the worldwide condemnation of Israel's crimes. Join us as we build the global movement for Boycott, Divestment and Sanctions!
Free Palestine! Boycott Israel now!