More Information:
www.necefsabeel.ca
NECEF Sabeel Canada is pleased to announce that Dr. Sara Roy of Harvard University will be speaking in Toronto on her extensive experience in Gaza for the 2015 James Graff Memorial Lecture.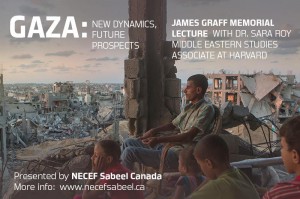 This lecture will examine the unprecedented dynamics that have emerged in Gaza in the aftermath of last summer's devastating war and its future implications. Dr. Roy will also explore how we can move beyond fear and militarism to envision something different: a world where dissent is mandatory and our capacity to witness is restored.
Sara Roy (Ed.D. Harvard University) is a senior research scholar at the Center for Middle Eastern Studies specializing in the Palestinian economy, Palestinian Islamism and the Israeli-Palestinian conflict. She is the daughter of two holocaust survivors.
Tickets:
Online: $10 regular / $5 student or unwaged
At the Door: $15 regular / $10 student or unwaged
Continue reading