Wednesday, 24 February 2016, 7:00 PM – 8:30 PM
Atrium – Toronto Reference Library | 789 Yonge Street, Toronto
Facebook event: https://www.facebook.com/events/1686776078269546/
Tickets*: https://www.eventbrite.ca/e/embattled-truths-reporting-on-gaza-atrium-tickets-19745562509
*Book two free tickets at above link.
$15 suggested donation. All proceeds go to PEN Canada.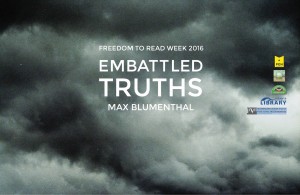 PEN Canada presents acclaimed US journalist Max Blumenthal, author of The 51 Day War: Ruin and Resistance in Gaza on the challenges of sifting truth from propaganda when reporting on conflict in the Gaza Strip. The event will also feature Toronto Star Foreign Affairs reporter Olivia Ward.
Searching for truth within the fog of war is particularly consequential in dispatches from Israel's occupied territories. Depending on where we get our news, Gaza is either a terrorist haven and a legitimate military target, or a zone of unjustified violence against a captive civilian population.
This event is presented in partnership with the Toronto Public Library, Another Story Bookshop and Independent Jewish Voices in honour of Freedom to Read Week.
About the Author:
Max Blumenthal is an award-winning journalist and bestselling author whose articles and video documentaries have appeared in The New York Times, The Los Angeles Times, The Daily Beast, The Nation, The Guardian, The Independent Film Channel, The Huffington Post, Salon.com, Al Jazeera English and many other publications.
His book, Republican Gomorrah: Inside The Movement That Shattered The Part, was a New York Times and Los Angeles Times bestseller.
He blogs at http://maxblumenthal.com.