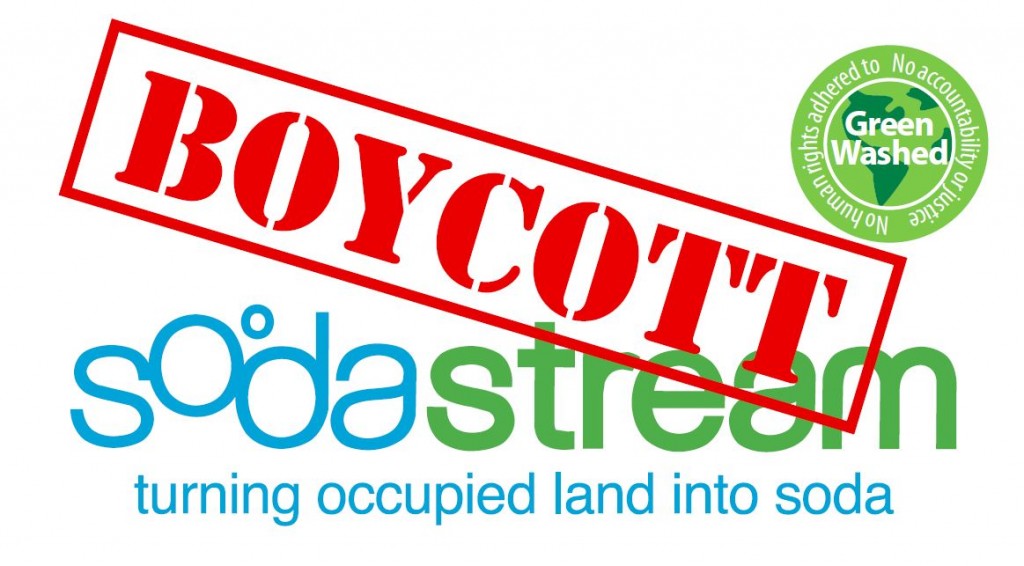 To support the Soda Stream campaign:
Don't buy Soda Stream products over the holiday season
Ask your friends and family not to buy Soda Stream products over the holiday season.
If you already have a Soda Stream product take it back to the store, tell them that you didn't know that it was made in an illegal Israeli settlement  and ask the manager for a refund
download our postcards, stickers, fliers, minifliers, mock-catalogue or obtain our design files by emailing us at endapartheid@riseup.net.
Write a letter to your local Bed Bath & Beyond  store asking them to stop selling Soda Stream products.

Email the letter to: customer.service@bedbath.ca or
Mail a letter – find the address of your nearest store here:
Sample Letter
Store Manager
Bed, Bath & Beyond
Insert store address
Dear Sir or Madam:
We are writing to express our concern about a product you are carrying on your shelves, which for the past several years has been the subject of de-shelving campaigns by human rights organizations around the world. The product in question is SodaStream, and as you may be aware, human rights organizations have voiced alarm about SodaStream's choice to locate its main production facility in Ma'ale Adumim, an illegal Israeli settlement in the occupied Palestinian West Bank
Israeli settlements are located on appropriated Palestinian land, and are recognized throughout the world as being in violation of international law and human rights norms and are seen as a major barrier to justice and peace for all those who live in the region.
By choosing to establish its main production facility in an illegal Israeli settlement:
SodaStream is complicit in a significant violation of the Fourth Geneva Convention – a binding principle of international law.
SodaStream is actively benefiting from the subjugation of the Palestinian people and military occupation of Palestinian land through cheap facilities, tax incentives and a captive Palestinian labor force under severe restrictions of movement and organization.  Soda Stream's own reports to the U.S. Security Exchange Commission discuss the relative weight of international consumer boycotts and negative publicity against the economic benefits of manufacturing in a settlement industrial zone.
In Canada alone, the SodaStream brand has come under critical scrutiny by the United Church of Canada, Independent Jewish Voices, Canadians for Justice and Peace in the Middle East, and other organizations. Additionally, it has been the subject of campaigns in countries as wide ranging as Italy, UK, USA, Norway, Japan, and Australia, all of which have called on stores to respect principles of ethics and social justice by removing SodaStream from their shelves.
We hope you are supportive of consumers' growing tendency to support stores that have a social consciousness and a respect for human rights and that you remove  SodaStream products from your shelves.
With respect,